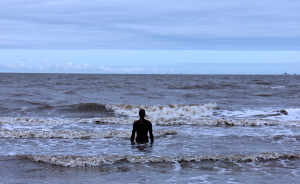 26 Mar

Practising the presence of Holy Saturday.
This post owes a great deal to the section on Holy Saturday, in Pete Greig's brilliant book, GOD ON MUTE
As a Christian, Good Friday and Easter Sunday are where it's at. They are the big days that mark events that stand as the cornerstone, the pivot of our faith. We're told, "It's Friday… but Sunday is coming".
But in between these days is the day we don't regularly discuss. A day I never paid any attention to until recently. A day that is teaching me about who I am and how to live. Holy Saturday.
---
On Good Friday Jesus was crucified.
"They took the body of Jesus and bound it in linen cloths with the spices, following the Jewish burial custom. At the place where he had been crucified there was a garden, and in this garden a new tomb (…) they laid Jesus there." (John 19)
On Holy Saturday, the disciples knew Jesus, the man they had thought was their saviour, lay dead in the ground.
On Holy Saturday, they hid, fearing for their safety, believing all they had given had been for nothing.
On Holy Saturday, promises remained unfulfilled, and despair was heavy in the air. 
Holy Saturday, a day of grief and sorrow, a day without answers, without hope.
---
I have lived a lot of Holy Saturday. Especially in the last ten years. The experiences I have written about on this blog only scratch the surface of the things we have been through as a family. There are many other things that are too raw, too private, that I haven't written about. Regret and manipulation. Bereavement and feeling let down.
I know Holy Saturday.
And I don't have to hesitate before I say,  I think you do too.
Because, although these past few years have been extreme, a concentration of difficult circumstances and experiences, I know I am not alone. I am not special.
Life is hard.
For everyone.
Yes, there are days and weeks and even years of joy, where the good days far outnumber the bad. But there is enough sorrow and grief and pain and distress too. There are days when we wonder what the point is, and whether it is all worth it.
Holy Saturday has been teaching me, to practise the art of being fully present even in the things I don't understand, even when life doesn't make sense. Not skipping over these experiences because they don't fit well with our theology of strength and success.
The space between the promise, and the fulfilment of the promise can stretch out. It can feel as though we will never see what we hope for. And recognising these feelings, acknowledging them and learning how to live with them, lean into them even, is the hard and good work we must to attend to. Not burying our heads in the sand or speaking out faith statements about how we want things to be, or how things should be.
But being here, now. Not avoiding or ignoring our present reality.
In his book, Pete Greig writes of how fragile our faith must be if we can't allow ourselves to be sad or scared or doubting for a while,
"In our fear of unknowing, we leap-frog Holy Saturday and rush the resurrection. We race disconcerted to make meaning and find beauty where there simply is none. Yet"
As we attend to these unwelcome emotions, without experiencing the joyful conclusion, the shiny Hollywood ending to the story, we discover what it means to be human. We start to figure out who we are, and what it means to live here, now. How to hold onto hope when the situation feels hopeless. How to look for beauty when we are in the place of devastation. How to be together, to offer comfort and carry each other.
I have learnt that I don't need a bumper sticker or a platitude to assure me everything is a-okay. I don't even needs solutions most of the time. I need to know I am not alone. I need to know that my experiences, my feelings are valid, and my brokenness does not disqualify me.
I need to be able to live through Holy Saturday, without having to pretend it is already Easter Sunday.
---
Let us not recognise the glory of the Easter weekend, without remembering Holy Saturday and all it can teach us about being present with others and in our pain.
For a lot of us, at least some of the time, Holy Saturday is where we live now.
---
If you are interested and want to read more about God's silence and unanswered prayer, I suggest you read Pete Greig's book, it is full of truth and hope.