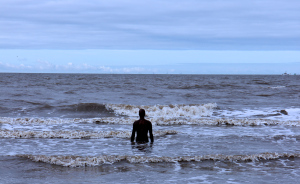 06 Oct

Part 2: difficult words

To start: a caveat. I am not a health professional. I have no training in mental health, or counselling. I am not a therapist.

I only have my story. Although i hope (and if the response to the previous blog is anything to go by – i think) that some of what i write might be recognised by some people, this story is particular to me – my unique set of circumstances and experiences.

Also, for the record, I have never and still don't find 'depression' a very useful word. It is often used inappropriately and as a catch-all. And I have never been quite sure, when used as a medical term, what it means.

My understanding, and use of this word, prior to my diagnosis had been to describe my mood – how i felt about fairly trivial things. Depressing weather, a depressing song or film; feeling a bit down in the dumps. This word did not seem to cover what i was feeling.

After writing Part 1: The diagnosis, I was talking to my husband about what it was like at that time (around 4 years ago).

What it was like having to live with me.

Instead of answering, he asked me what i thought were the three elements that most characterised my experience of depression.

This might seem a bit crude, and definitely isn't the full picture. But, I narrowed it down to, not exclusively, but mainly:

1. Anxiety. Huge waves of it coming unbidden and often with little warning. This included panic attacks, and enormous health anxiety.

2. Feeling overwhelmed with life, pretty much ALL THE TIME. (I wasn't enough, I couldn't do enough, I couldn't be enough, It was all 'too much'. Not 'coping' doesn't really cover it, but you get the picture).

3. A sense of dislocation or numbness. (The best way i can describe this was an inability to engage, or to feel what was really going on. Surviving as an observer, zoning out from reality. It was also REALLY lonely)
Matt said that this final state was the one that resonated most with him. He describes me as, simply, 'absent'… a lot.
I was fairly good at pretending everything was okay when I was with friends, or busy with the kids. Not on-top-of-the-world, but getting by.
It was often at the end of the day, when the kids were in bed and we were sat infront of the tv, that i absented myself.. Not in a good way, not like real rest, but as a kind of avoidance: – 'Don't make me think about anything because i cant take anymore. Let me sit here (usually inches away from the fire) and zone the world out. I don't want to make plans, or be asked my opinion. I don't want to think.'
When confronted about my behaviour (as i had no clue what was really up) I pointed to my exhaustion, the kids, how much i had done that day etc., to excuse the state I was in. I truly thought this was all it was. That, if i could just get the next one to nursery, if i could only have a week with good sleep, if only i wasn't dealing with temper tantrums and ferrying kids about ALL the time – then i would have the energy to re-engage with conversation and life at large.
And… there are just hard bits when you have little ones, when sleep is elusive and you are at the edge of coping… So it is easy to miss the signs that something else is going on. Especially if mental health is not something that is ever discussed, in your life, with your friends, or in your family.
I am so grateful that i had someone in my life (that will be my husband) to push me to confront what was really happening, and get some help. And, so, so grateful for my brilliant counsellor, who got it and got me, and showed me it didn't have to be like that.
Strangely, in amongst the incredibly bleak times, there were lots of very joyful moments. It has definitely not all been a write-off. I look back on Ed's pre-school years with huge fondness (he is a legend and we had a lot of laughs). I actually think i enjoyed his toddler days more than i did my two girls'. Now, i can see that was because i had a diagnosis, and i knew that this wasn't actually what it was meant to be like.  As opposed to; 'this is life, it's pretty shit isn't it, and you're not very good at it.'
Which was how i had felt most of the time.
After the diagnosis, the next thing i needed was a plan.