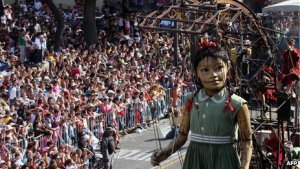 10 Oct

a beauty interlude:

"We were created for wonder but life can squeeze it out of us."

Wonder is essential to living well. Beauty is necessary. Awe imperative.

But sometimes you have to go looking for it, because it doesnt just turn up on the doorstep.

I think Dostoyevsky got it right:

Beauty will save the world.

I feel so strongly about this. I told someone only this week that I would fight anyone who disagrees with me. As a theatre-maker it is hard-wired into me. Enjoying beauty with other people is my favourite thing to do. To have a collective experience of wonder is a brilliant thing. It is good for the soul.

Last year, the giants came to Liverpool.
Ed (who was nearly three at the time) and I, drove up to North Liverpool and stood at the end of a road of boarded up houses to watch as the little girl giant arrived in town, with her dog, on her boat. There were schools lining the roads and crowds lining the route 3/4 deep. It was incredible. Like a magic trick. So unexpectedly amazingly beautiful.
By Saturday and Sunday, word had spread and hundreds of thousands of people converged on the town centre and docks to follow the story of the giants.
People followed them all weekend, enjoying the bustle of a city under their spell.
I felt bereft when Sunday was over and they had sailed away. We had been swept up in a city-wide romance, and once they had left suddenly everything felt very ordinary.
Beauty does that.
Don't wait for beauty to come to you, because most days it doesn't. Most days you have to go hunting .
Beauty is everywhere, all the time…  it doesnt usually arrive on a boat with a crew of puppeteers and a soundtrack.
Often it takes more searching for.
In the mundane, in the routine, I think we can forget to look.
Because once you look properly, beauty is everywhere, in amongst the dirt.