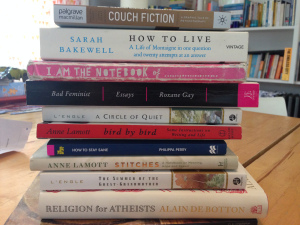 09 Sep

on writing

The tea is made, the kitchen counters wiped down, the washing in the machine. I haven't got to do the school run. Its 8:25 am. Time to start writing.

Inevitably I am assailed by a list as long as my arm of all the jobs I could be doing. Of the cluttered kitchen, the phone calls not made, the emails not sent.

I silence these requests for my time and concentration, I sit down. Time to start writing.

But what if I don't have anything to say after all?

What if this idea that has been gathering pace for most of the last year comes to nothing?

What if I can't do it?

What if no one wants to read the words I place in black and white, one next to the other.

Does it have to be this tricky, to begin?
---
Here are some thoughts plucked from my favourite book on writing (I haven't read many) to inspire me. To get me started.
Maybe they will spur you on in whatever you have to do today.
Whatever it is – I can assure you it is a creative act, because you are creative.
'Good writing (and here you can substitute writing for living if you feel brave) is about telling the truth'. You can lie to yourselves, your readers, your students, your friends, but it won't get you anywhere. It will keep you trapped in a fantasy world, having to keep up appearances. Be bold, be honest. Tell the truth.
Put aside all other distractions and do the main thing. 'Yet somehow in the face of all this, you clear a space for the writing voice, hacking away at the others with machetes, and you begin composing sentences. You begin to string words together like beads to tell a story. You are desperate to communicate, to edify or entertain, to preserve moments of grace or joy or transcendence, to make real or imagined events come alive. But you cannot will this to happen. It is a matter of persistence and faith and hard work. So you might as well go ahead and get started.'
'…shitty first drafts' It's okay, you are going to start badly. It is going to go wrong at some point and you will have to start over. 'Shitty first drafts' makes allowances for this. Just start. Don't expect perfection.
'Perfectionism is the voice of the oppressor, the enemy of the people. It will keep you cramped up and insane your entire life… Perfectionism means that you try desperately not to leave so much mess to clean up. But clutter and mess show that your life is being lived.' Don't worry all the time about the mess, about the emotional fall out. Don't live on somebody else's terms, or to please somebody else. Be yourself in all your glorious messiness. Write it down. Write it all down, including the bits you don't like and the stuff you never want anyone else to read. They don't have to – but you do if you are going to start.
'Writing is about learning to pay attention'  Wake up. Look at the world. Look at your friends and think about their lives for a moment. Look at your life and think about that for a moment. What do you need to pay attention to today? Some people call it the universe, I call it God, but something is trying to get your attention – what is being brought front and centre right now? What is in your eye-line as you work?
'If we can believe in the Gnostic gospel of Thomas, old Uncle Jesus said, "If you bring forth what is inside you, what you bring forth will save you. If you don't bring forth what is inside you, what you bring forth can destroy you"' Write to save yourself. Write because you must and you need to. Even when you don't feel like it and are convinced you are rubbish and have nothing to offer. Offer yourself. It is all you have.
And to finish, one word from Madeleine L'Engle in A Circle of Quiet (a book so good I took to reading it with highlighter in hand).
'All we have, I think, is the truth, the truth that will set him free, not a limited, provable truth, but the open, growing, evolving truth that is not afraid'
*All other quotes from Bird by Bird: Some instructions on Writing and Life by Anne Lamott.