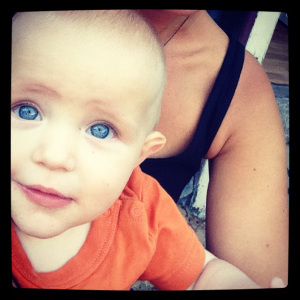 24 Jul

when i get what i don't deserve.

This week Matt has taken the kids to the Lake District with his Mum and his sister. I've been on my own for 6 days. It has been a lovely week, of catching up with old friends and taking life at my own pace.

But on Monday something rather bad happened.

I was driving to see my good friend LP, to go out for a cup of tea in the sunshine. Without kids.

I did the necessary U-turn on Aigburth Road, to get to her house. As I turned my car I heard a thud and as I looked to the pavement to try and understand what had happen I saw two women, who were waiting at the pedestrian crossing looking very shocked, gesticulating wildly at me.

My heart sank. I knew I had checked the road for cars approaching and it was clear. I thought i had hit a cat.

As I looked in my rear-view mirror my heart sank further as I saw a young lad and his motorbike on the ground.

I pulled my car into the bus stop, shaking and ran hell-for-leather to the central reservation that the young man, thankfully, was walking to, looking very shaken up.

It was horrific. I still can't quite figure out how it happened, how i didn't see him. But piecing it together, from what the witnesses were saying he was driving on his scooter down the road, another car in front of me was obscuring my view but It. Was. My. Fault.

An accident?, yes. But my responsibility?, yes again.
---
I have been thinking about it all week – obviously it was a fairly traumatic thing to happen, it is going to play on my mind. But this morning as i was thinking about it i was suddenly overwhelmed with gratitude. Clearly i am thankful that no one was badly hurt (the driver of the scooter broke his wrist but no further injuries), but more than that I am thankful for the grace that has been extended to me.
There were a number of people who had every right to be angry with me, disappointed, cross. And they weren't.
Obviously the young lad who I knocked off his bike. I broke his wrist. I have probably spoilt his plans… and I'm guessing his Mum won't be that keen on letting him back on that scooter. He should be mad with me. He should have been shouting and demanding his rights. But he didn't. Obviously he was in shock and confused (as was I) immediately after the event, but very quickly – within five minutes at the most- he was checking I was okay. He didn't point the finger and get mad, he didn't accuse me of bad driving and thoughtless behaviour. He asked if i was okay. We exchanged details at the scene and later that evening he text me to tell me that, yes his wrist was broken, but also he wanted to know how I was. Grace, undeserved.
I phoned Matt to tell him what had happened. That his car was scratched. That his insurance premium would be going up. His response was to tell me not to worry about it, the most important thing was that everyone was okay. That I was precious and so long as I was okay, everything was fine. He didn't blame me or act disappointed. He offered me grace, undeserved.
LP, my magnificent friend, was the person I called from the scene shakily, not making any sense, asking her to come… help! Moments (literally moments) later I see her running up Aigburth Road, barefoot, Birkenstocks in hand (they were slowing her down) towards me. She is amazing in a crisis. Calmly checking everyone was okay, taking photos of damage to the bike, making sure we were swopping all the right details. Not only that, but then she came with me to the police station (because yes, i had to make a statement), making jokes and reassuring in equal measure. Then she took me home, made me a cup of tea in her back yard and gave me her gorgeous 6 month old to cuddle. Then made me spaghetti bolognese and invited me to eat with her family. She had been looking forward to an afternoon out – without her kids – and she got an afternoon in police station. She offered me grace, undeserved.
Even the police officer I dealt with, the scooter driver's Mum, the witnesses, all to one extent or another showed grace to me.
I feel very fortunate. As my lovely neighbour over the road said to me when i told her about it, "someone up there's looking out for you", and my gorgeous friend whose garden I spent Monday evening in, watching Barefeet Zambia performing a piece of theatre (that's another story), text me later the next day to tell me 'God is in the mix'.
And as I thought about it all this morning; the undeserved grace shown to me by each of these people, I thought – she is right.
I have been trying not to think about this bad thing that happened, because it made me feel guilty, or ashamed, or as though i wanted to make excuses and explain to anyone who would listen how it could have happened to anyone… But whilst I tried to push it from my mind I missed the most important truth of all – the best thing to learn from this (other than making sure I look really, really well at junctions):
We live in a world where the prevailing culture is concerned with demanding our rights, and getting what's ours. And so when someone chooses not to demand their pound of flesh, and extends grace to me, it is refreshing, like a cool drink of water on a hot day like today.
And that is a really good reason to feel grateful.